ACOPIA's K-POP Camp gathers all fans of K-POP from all over the world! Get the chance to visit Korean performing arts schools and prime entertainment companies, undergo dance and vocal training from experienced K-POP coaches, learn Korean language, indulge in true Korean cuisine, and make new friends who love K-POP as much as you do. Additionally, you will get the chance to explore Seoul the chance to explore Seoul at its finest!
ACOPIA K-POP training CAMP
APPLICATION DEADLINES

of December 2019 camp
⇒Application deadline: December 11th, 2019 (Wednesday)
Special discount for your participation fee!!
1. If you pay deposit 45 days before KTC starts, you can get discount by 100 USD for your participation fee.
December's KTC: until November 8th
2. If you pay deposit within 2 weeks from when you receive an e-mail about payment of deposit from ACOPIA, you can get discount 50 USD for your participation fee.
※ Therefore you can get discount by 150 USD for your participation fee at maximum.
K-POP Training Camp Conditions
*Pick up: The meeting place of the arrival date is Incheon Airport. Please gather from 15:00 to 16:00.
※The guesthouse is located close to Hongik University Station on Subway 2 with convenient access to the city.
*Depending on the flight arrival time, you can come directly to the lodging house, and the staff can pick you up at the nearest Hongik University entrance station.
We would appreciate it if you could arrange your arrival time by 14:00 on the first day.
If it is difficult to gather until 16:00, if you are staying at a nearby hotel or if you are going to join us on the way, we will inform you in advance of the meeting time and place.
※Each person is responsible for the fare from the lodging house to the airport on the last day.
(On the first day, participants who will go by themselves from Inchon Airport to Hongdae will be in charge of paying their transportation fee: about 4 USD
*On the last day, you can leave for the airport yourself .
(Please be careful not to miss the plane!)
*The above schedule may change.
*All the schedules will be accompanied by English speaking staff from early morning to evening.
*24 hour emergency call: +82-10-5815-4649 from overseas and 010-5815-4649 from South Korea
*Pictures and videos taken during the camping period will be uploaded on the Acopia website and social media.
PROGRAM INCLUDES
K-POP classes (dancing group lessons & individual lessons )

Audition Training: Director and Idol form entertainment companies, dance and vocal teacher will give advice on how to improve your performance.

Han river boat sightseeing & Hanbok Experience/ Korean Uniform Experience & Lotte World (you will have to select one between these activities)

Makeup and hairstyle at Hongdae beauty salon and photoshoot

Dance lesson at One Million Studio

Korean Karaoke experience.
Note: The contents of the program are subject to change. We ask for your understanding.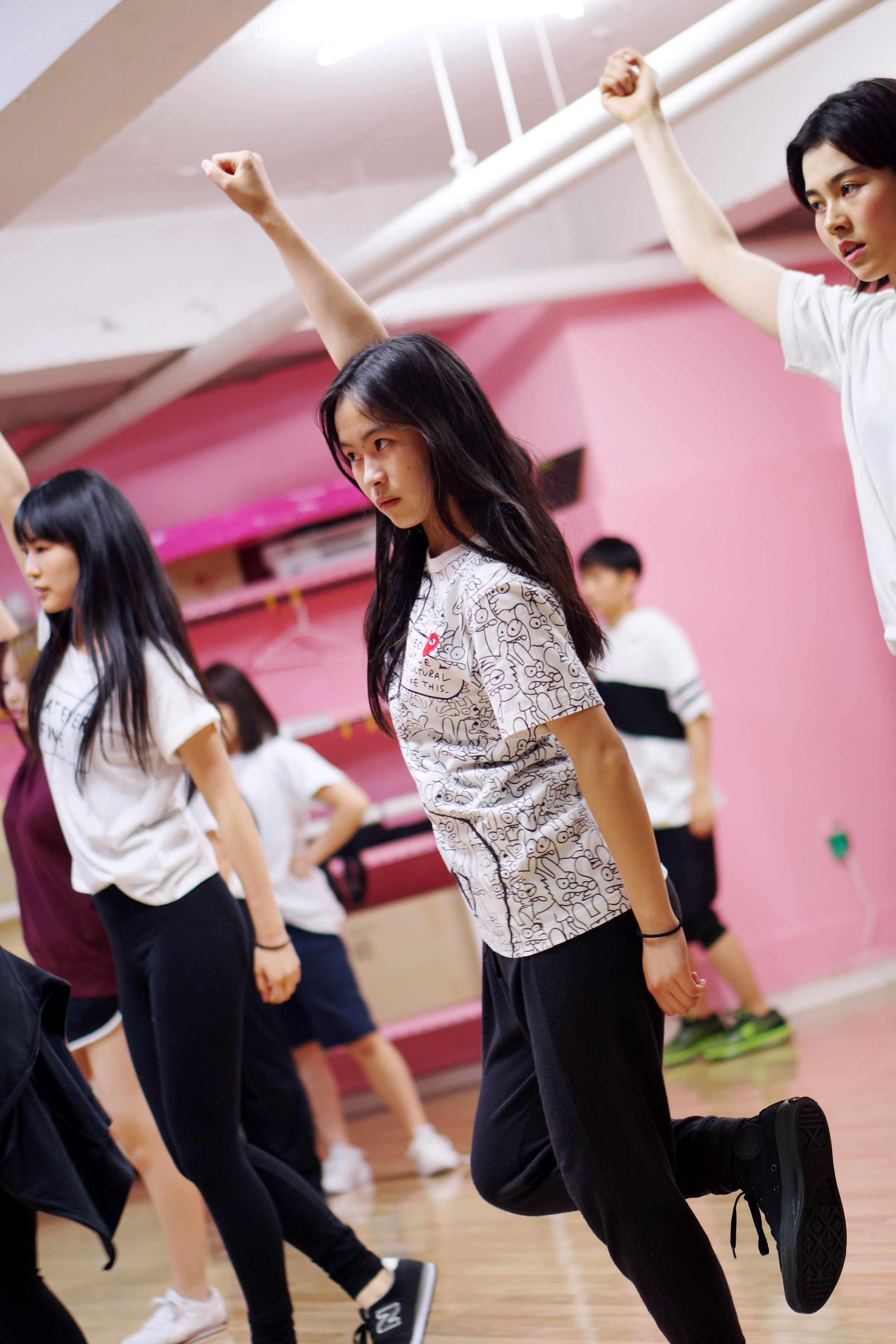 REQUIREMENTS
Anyone who loves K-POP and Korean culture is certainly free to join our camp! We hold no screenings of any kind, all we ask is for your enthusiasm and participation.Language is no barrier. We have English, Korean, and Japanese fluent staff who will be more than willing to assist you during your stay!
FEES AND OTHER INFORMATION
Deposit Fee: 320 USD
※Deposit is part of the full participation fee and is not refunded upon cancellation. It can be used for two years at K-POP Camp or other programs of ACOPIA, which require the same deposit.
Upcoming K-POP Camp participation fees:
July K-POP Camp: 1200USD
September K-POP Camp: 1000USD
December K-POP Camp: 1000USD
The cost of September and December K-POP Camps has been discounted from 1300 USD to 1000 USD as of 2019.
Cost includes accommodation, K-POP dance classes, Korean classes, breakfast, lunch, and dinner (excluding menu additions and dessert), an optional city tour, translation guidance and pick up from airport.
Cost does NOT include airfare to and from South Korea, airport transfer fee to Hongdae, personal expenses outside the camp itinerary, and travel insurance.
Send Application
▼▼▼
Pay Deposit 320 USD (Paypal or Bank Transfer)
▼▼▼
Get Email from Acopia
▼▼▼
Pay the rest of the participation fee
▼▼▼
Get information of K-POP CAMP
▼▼▼
Arrive in Korea
▼▼▼
Join K-POP CAMP!
Applications are now open for the 2019 K-POP CAMP
DECEMBER K-POP CAMP SCHEDULE
ACCOMMODATION
During the K-POP Training Camp, you will be staying in a Guesthouse within walking distance of ACOPIA school. It is located in a safe area and is a clean housing facility. Examples of the kind of Guesthouse you will be staying in can be found below.
PAYMENT TO ACOPIA



■PayPal Link

https://www.acopia-world.com/payment
When sending the payment through Paypal please send the payment to the following Paypal address: acopia.asia@gmail.com
Deposits are not refundable but can be used within two years to cover other programs in Acopia.
※ Please pay the deposit using PayPal.
※ Deposit is part of the full participation fee and is non-refundable but it can be used for two years at KPOP Camp or other ACOPIA programs, which require the same deposit.