Acopia Fund activities
ACOPIA 펀드 활동이란?
ACOPIA 펀드 활동은 ACOPIA 인턴들에게 카페 외에서 한국에 대해 더 많은 것을 볼 기회를 주는 활동입니다. 또는, 카페 활동을 하면서 모은 펀드를 이용해 한달에 한번씩 다같이 식사, 여행등 여러 이벤트를 열기도 합니다.
DMZ 비무장지대 버스 투어 - 2018년 6월 18일
2018년 6월 18일에는 모든 인턴들이 다 같이 DMZ를 구경하러 갔습니다. 이 기회로 인턴들은 한국 역사와 북한과의 관계에 대해서 더 알게 되었습니다. They visited different places :
임진각 자유의 다리 :

파주시 임진강 유역에 위치한 공원 임진각에는 한국 전쟁과 관련된 많은 기념비가 있고, 임진각 자유의 다리는 북한과 남한을 연결하는 유일한 길이라고 합니다.
제3땅굴 :

북한 이탈 주민이 제공한 정보를 바탕으로 1978년 10월에 발견된 이 땅굴은 서울 기습공격을 위해 북한이 건설한 4개의 땅굴 중 하나입니다.
도라 전망대: It is the part of South Korea the closest to the North. Visitors can looks across the Demilitarized Zone through binoculars from the observatory. It is possible to see the North Korean propaganda village situated in the DMZ and also as far as the city of Gaesung which is the 3rd largest city in North Korea.
Dorasan Station : It is a railroad station situated on the Gyeongui Line, which once connected North and South Korea and has been restored. In 2000, former President of South Korea Kim Dae-jung visited to North Korea to meet Kim Jung-il and they agreed to reconnect Gyeongui Line. The construction was finished and opened in February 2002.
Feedbacks from interns :
Aissatou : It was a very interesting experience from a cultural point of view because it allowed us to become more aware of the conflict between the two Koreas. I think anyone coming to Korea should live this experience at least once.
Solène : It was very captivating to visit all these places that are really important in the Korean history. I learned a lot of things about the conflict between North Korea and South Korea. Furthermore, it was really fun to go there with all the interns!
TRIP TO BUSAN - 20th May to 21 May 2018
All the interns of Acopia went to Busan from 20th May to 21 May 2018. It was a great opportunity to discover a new city and to learn more about the Korean culture. They visited the Busan Museum, the Sea Life BUSAN AQUARIUM, haeundae beach, the bay 101, gamcheon village… and tried the Korean sauna jimjilbang.
The interns had the chance to wear hangbok , they were also involved in different traditional art activities.
Feedbacks from interns :
Sylvie : The trip to Busan helped me getting closer with the other interns while being able to visit another city. The museum was interesting and we could do some cultural activities like wearing an hanbok and reconstructing broken pots. The Haeundae Beach was really beautiful and we got lucky to see the sand festival, which was amazing.
Phung: I really enjoyed the trip because you get to know your coworkers better while experiencing the Korean culture. It was also a great idea to go to Busan . This broadened the interns view because some might only travel around in Seoul. With this trip they could see another part of the country and doing things they wouldn't do in the first place. (Example given: jimjilbang)
PIZZA PARTY - 17th of June 2018
The 17th of June was the last day of two of our beloved interns, Neila and Aissa. We were very sad to see them go, so for this occasion we decided to do a pizza party with all of our Tuesday interns! Once every month, we organize a big meal where all interns eat together around a table.
Acopia interns are like a big family and a big group of friends. People here are warm and loving and everyone can work together in a relaxed and fun mood. We hope we will get to see Neila and Aissa again in the future.
Goodbye Neila and Aissa, have a safe flight back home and see you soon ! :)
- Acopia interns
Vegetarian Event - 24th of July 2018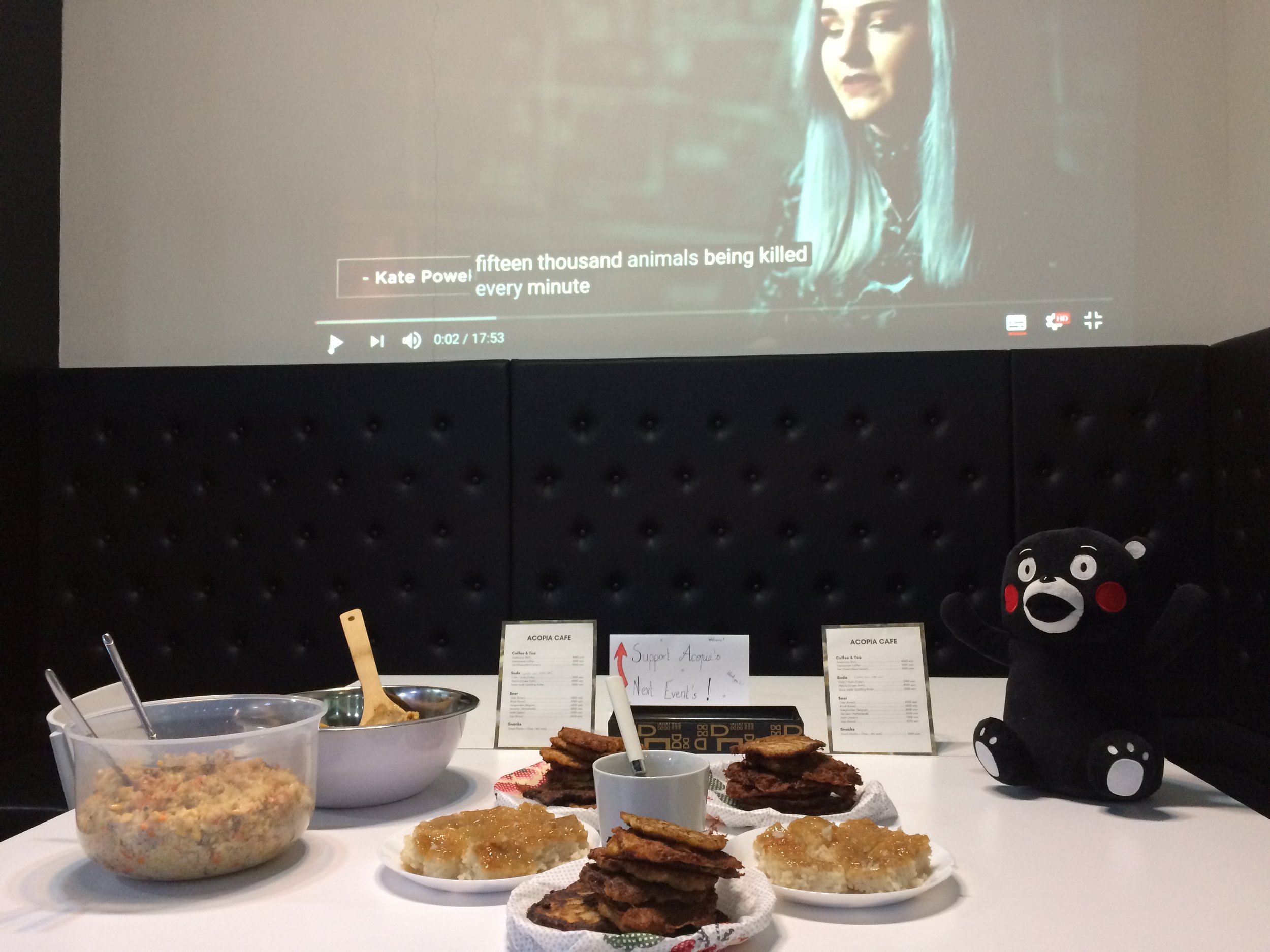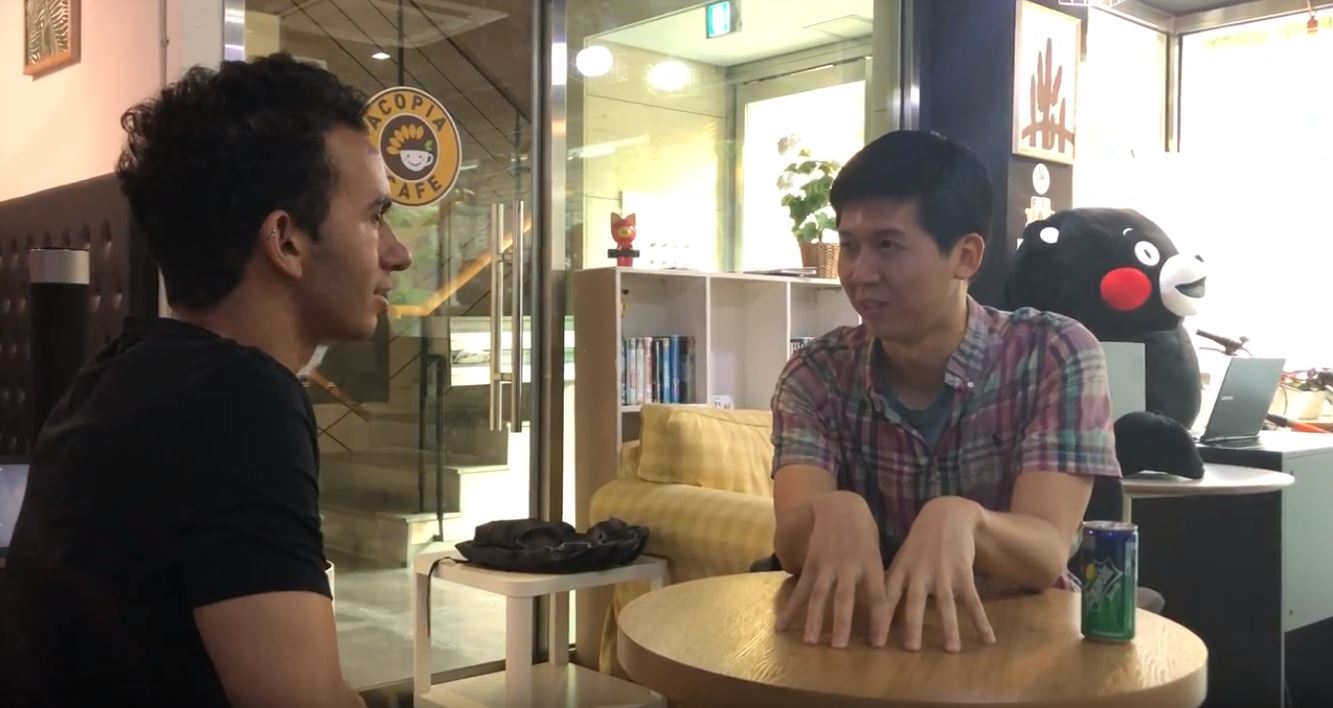 On Tuesday 24th of July, Acopia interns organized a vegetarian event.
The purpose of this event was to raise awareness and share views on an issue that is more and more crucial nowadays, and to promote taking good actions for the planet.
The event consisted of watching a short video about health, environmental and emotional implications of vegetarianism/veganism, of debating about opinions and views on these subject areas, of a quiz about vegetarianism and finally of a vegetarian dinner cooked by interns who organized the event. During the event, participants got to exchange ideas and speak about their personal experience and feeling towards this matter.
Feedbacks from interns:
Julien: The event has been a really interesting experience, as an intern and as a vegetarian. We had a great time during the event discussing about vegetarianism & veganism. It was really enriching for everybody to have different point of views. But it was also enriching as an intern. Organizing an event was really fun and exciting.
Rym: Being vegetarian is not that easy nowadays, so I never really thought about becoming vegetarian. As a meat-eater, this event made me aware of the risks that can arise on our planet by eating meat in large quantities. Not only it is very bad for our health, but also when I saw how those animals are treated, I was quite shock and disgusted.
It was also really interesting to know that meat isn't essential and that it is really simple to replace it. I really enjoyed this event because every interns and participants had the opportunity to share their point of views about vegetarianism. Also, food was SOOO delicious !
Elika: It was a great experience to meet vegetarian and listen to their point of view. For me it was a fun night, with interesting people, nice food and new perspectives.